12 October 2021.



Exposer (feat. Zachary K Hubbard)






This is another unreleased project dating from 2015 and is the first track I did that features the voice of Zachary K Hubbard.

This track was the precursor to the hard hitting 'Do Not Be Fooled' and was initially going to be part of the New Word Order digital release that came out in 2017.

For some reason it was not included in the final release. Possibly because it needed some visual examples to go along with Zach's commentary. This has now been done.

Keep your eyes peeled on the video for occasional images that pop up on screen to help clarify what Zach is saying.

13 September 2021.



Dark Matter part 4.






This is an unreleased track from 2015 that has its roots in the late 90's but has undergone 3 revisions in that time.

Initially it was a track about the supposed dark matter that we're told makes up most of the universe.

However, some years later after having learned differently, the topic turned from dark matter in outer space into a dark subject matter here on Earth.
11 March 2021.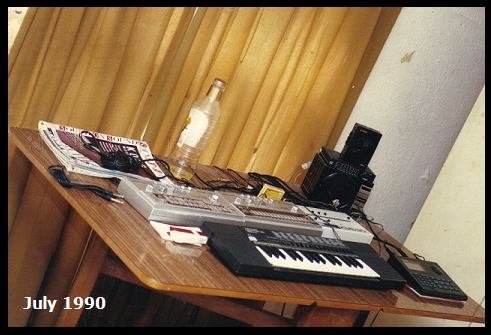 Nineteen nineties. Time for the VFT. . .



Time for another long overdue update. Thanks to all that have continued to support the site while I've been busy doing other things.

Last year turned out to be one of my most musically productive years and I would assume it was the same for a lot of producers, DJ's and musicians who found themselves at home for the majority of the year.

On the downside, a few things that were in the pipeline were postponed indefinitely including a couple of projects that were due for release on two other labels that I have been recording for.

On a brighter note, I mentioned in my last update that I had an EP coming out on a new UK label Fourier Transform Records.

I'm pleased to confirm that the EP, entitled 'Deep Soul Calm' is now available on vinyl, however with many record shops being closed at the moment I'm not sure of availability. Please contact Fourier Transform direct for further info.

As you may have noticed, the Return To Techno vinyl EP is now back up for sale. I had a few enquiries asking if it was still available.

The recent 'pandemic' and now Brexit have made distribution a little more trickier than it used to be but I have good relations with my local post office so we're good to go for now.

And remember this release is also now available digitally in the download store.

Speaking of which, there are a couple of new releases available in the download store, Conditions of Health, which is taken from the THC volume 2 mix (see link in the dedicated post below).

And after popular demand the track Do Not Be Fooled by VFT and featuring the voice of Zachary K Hubbard is now available as a digital release. This track was originally featured in the THC mix volume 1 back in 2017.

If you don't know who Zachary Hubbard is then I suggest you look him up. He teaches a practice called 'Gematria' which interchanges letters with numbers thus giving all words a mathematical value.

This leads to some extremely interesting theories and concepts that are beyond the scope of this website, so go check out Zach's work for yourself if you're interested to know more.

That's about all for now but I'll be adding new tracks to the digital store very soon and also some free to download DJ mix sets.

By the way, the picture at the top of this post is part of my setup 31 years ago, including a TB303, a TR606, a Tandy home keyboard, a packet of cigarettes and an empty fruit juice bottle.

The August 1990 edition of Sound On Sound magazine can also be seen, and finally at the bottom right corner of the table sits a Boss DR550 drum machine.
19 September 2020.





This year has seen a lot of dramatic changes for everyone and during this time has meant that I, like everyone else, have had to readjust to these new times.

Up until the beginning of this year I was in the process of expanding the website but in the currant climate I have decided to put those plans on hold and have gone the other way and have streamlined the site somewhat.

With the world going through what some are calling 'the great re-set', it has also resulted in me re-setting this website somewhat and flushing out a lot of old links and material in readiness for some fresh material should circumstances permit.

The vinyl sales page has been removed due the logistics of self distribution being adversely affected by current restrictions.

The mix archive page has also been removed as some of the mixes were getting quite old and needed updating.

I will be adding links to my upcoming DJ mixes in the side bar of this page rather than having a dedicated page. This should also help to speed up page loading times.

The Merchandise and Digital Store pages are unaffected by the site revamp and both remain unchanged. And speaking of the Digital Store. . .

VFT - Return To Techno EP – now available to buy as a digital download.

The latest Fine Balance vinyl release is now available as a digital download. Head on over to the Digital Store to purchase your copy.

All tracks can be bought separately or you can purchase the entire release at a discounted price.

If you wanted to hear more of yours truly on vinyl, then head over to Fourier Transform records where I have been given the honour of having the maiden release on this new label.

16 September 2020




THC mix Volume 2.






Three years after the original THC mix, I am pleased to announce that a followup mix is now here.

The original THC mix was uploaded back in the spring of 2017 as a special project containing a mixture of unreleased and commercially available tracks.

All but one of the tracks contained messages suggesting that all in the world might not be as it seems. Three years on and it definitely feels like many of those messages have come or are coming into fruition.

Volume two continues in the same vain as the first instalment, with a mixture of unreleased and commercially available tracks containing subtle and not so subtle messages, along with a couple of light-hearted tracks to bring a touch of humour to the mix.






The Variable Frequency Technician
Return To Techno EP






For those that have been asking recently, there are still a few copies of the Return To Techno EP available on vinyl. The cost is 7.99 GBP + postage. Please contact us to order your copy or if you have any questions.





Mix archive


To celebrate 33* years of Acid House addiction I have re-uploaded the 21st Century Acid mix set from 2019. Every track in the set was created in the last decade or so hence the title.



* To my conspiracy and truther friends, the reason I am celebrating 33 years is because the main instrument that is used in Acid House creation is call a Roland TB303. In numerology where zeros are not counted it breaks down to 33.

I have often pondered why it was the TB303 that became the instrument of choice for the genre. It was however a very unique sound at the time and no other instrument sounded quite like it.

The person widely recognised for having 'invented' Acid House in the mid 1980's is DJ Pierre, whose name also happens to have the same value in 2 Gematria cyphers as the term 'Acid House' (85 English Ordinal and 50 in reverse full reduction) so the plot indeed thickens.

I was the tender age of 18 back in 1988 when I got into Acid House music and had no idea about gematria back then. It was simply all about the music.